IVF cycle with donated eggs

2 blastocysts guarantee
+ 3rd cycle for free
+ 2nd cycle 10% discount
Programme with NEW guarantee!
Price: 5.900 €
As we stand for the high success rate of our treatment, we offer our clients a brand new IVF egg donor package with guarantee of 2 blastocysts and 3rd cycle for free, which is completely unique among the IVF clinics.
As one of the few clinics, our package gaurantee is not bound to the quality of normozoosperm. You can undergo the treatment with guarantee of 2 blastocysts even with worse quality of sperm (If it´s not qualified as OAT or worse).
Our clinic offers also Microfludic sperm sorting – this method helps to select the best sperms for fertilization and increases the success rate provably.
Complexity of services of our clinic GENNET enables our clients to undergo the entire treatment in one location. GENNET offers all required examinations, tests that are necessary for infertility treatment and in addition also the latest testing in the field of genetics, immunology and andrology. We have our own genetics and immunological laboratory. Our doctors are the best in their fields with many years of experience.
The core of our medical treatment lies in the personalised therapeutic plans and individual approach to each client. We will discuss all options and suggest the best treatment for you.
Our IVF physician will also discuss the laboratory methods with you during the initial consultation and will suggest the best options based on the sperm quality and your medical history.
We have own sperm bank and egg donor list. All our donors are carefully selected and meet the strict requirements according to the Czech law.
There are no waiting times and there is always a coordinator who will take care of you and guide you throughout the whole process.
You will not be left alone in your treatment, you can also discuss all your questions with coordinators any time. Our colleagues in the International patient office speak English, Italian, German and French.
Our clinic has the latest technical equipment that enables our experts to determine accurate diagnosis and subsequent course of treatment.
We offer free consultation with our doctors from safety of your home via Skype or phone with no waiting time.
WHY GENNET?
YEARS
Individual approach
Your own coordinator will guide you throughout the whole treatment and our physicians will take their time to explain the whole treatment to you and answer your questions
YEARS
Communication
We will answer your email within 24 hours. Therefore, you can have a consultation right tomorrow!
YEARS
We speak your language
Our colleagues in the International patient office speak English, Italian, German and French.
YEARS
10 000
We have brought more than 10 000 children into the world
YEARS
20 years
We have been helping our patients for more than 20 years!
YEARS
Perfect matching
We have our own database of egg and sperm donors and we are able to offer you the best matching of physical features
YEARS
85%
Thanks to the excellent work of our experienced embryologist we are able to achieve 85 rate of successfully fertillized eggs.
THE PRICE INCLUDES
personalised therapeutic plans and individual approach to each client

Individual approach – communication with the clinic via a coordinator during the whole treatment; you do not have to be afraid you will stay all alone.
The oocytes (eggs) are fertilised by ICSI method
We use the top technology.
If their quality allows it, all embryos are cultivated until the stage of a blastocyst.
Both the physicians and the laboratory staff are constantly undergoing trainings and they are publishing professional publications. They are at the top in their fields of work.

We check the quality of your partner´s sperm by using a sperm analysis.
Prolonged cultivation and assisted hatching are included in the packages.

All ultrasounds can be done in our clinics where they are properly checked by our physicians.
Consultation with the physician is possible via Skype, phone or in person – in case of having the initial consultation in person, checking of TSH, blood group and sperm freezing included in the price.
Our nurses will explain the application of the hormonal medicine to you.
Embryo transfer is done in a modern operating theatre using an ultrasound.
PRICE
Price: 5.900 €
No hidden charges, you will know the exact prices right at the beginning of your treatment.
We can guarantee at least two embryos in the blastocyst stage (5th day of cultivation). As one of the few clinics, our package is not bound to the quality of normozoosperm. However, the sperm quality must not be classified as OAT (oligoasthenoteratozoosperm) and worse according to WHO.
The third cycle for free for the clients who do not get pregnant (confirmed heart beat) even after two cycles with donated oocytes (after having transferred all embryos created during these cycles).
The price includes:
consultation and ultrasound checks during the treatment cycle
the costs associated with the stimulation of the donor (monitoring of the donor´s cycle and egg collection, medication for the donor and reimbursement of the donor´s expenses)
tests for HIV, Hepatitis B, Hepatitis C and Syphilis for the male partner
sperm analysis + sperm freezing and one year storage (must be requested in advance)
ICSI, prolonged cultivation, poss. assisted hatching
embryo transfer
10% discount for 2nd cycle (is only valid for the same treatment type)
The price does not include
medication and additional laboratory methods.
The complete price list can be found HERE
IS THIS PACKAGE IDEAL FOR YOU?
a very poor egg quality, conditions after operation of ovaries, severe endometriosis
genetic causes
in case you have undergone a series of unsuccessful attempts and you are more than 43
BEFORE STARTING TREATMENT
The initial consultation
with a physician is FOR FREE
Confirmation of the treatment schedule and selection of the donor
Preparation of the lining in the uterus
Egg collection and their fertilisation
Embryotransfer
Pregnancy test
PHYSICIAN´S CONTRIBUTION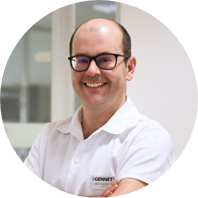 "Is there any advice you would like to send to the pairs who are still trying to conceive a baby?
Do not postpone further attempts; do not throw in the towel. Assisted reproduction is a very beneficial method with a high success percentage and we can help you."
MUDr. Daniel Alexander – IVF physician
GENNET Praha 1
Na Poříčí 26
110 00 Praha 1