Share
SARS-CoV-2: Operating News 5. 6. 2020
05.06.2020
Dear clients,
We are really glad to be able to say that the situation in Czech republic is good and stable now. We are not under the lock down anymore, shops, restaurants and hotels are open again so life in our country got almost back to normal.
However there are still some precautions, e.g. it´s mandatory to wear facemasks in public transport or inside of the stores and other public buildings. Below please see more information about the restrictions/rules when traveling to Czech republic
LIST OF "SAFE" COUNTRIES
On June 1st, Czech government announced the list of "safe" countries. You can see the updated map on website of Czech ministry of Health https://koronavirus.mzcr.cz/seznam-evropskych-zemi-podle-miry-rizika-nakazy/. Unfortunately it´s only in Czech language, however the message is that people travelling from the green countries can travel to Czech republic without the test for covid from 15th June 2020. People travelling to Czech republic from orange and red countries must have negative test for covid if they stay here for more than 24 hours. This map will be updated every week so we´ll definitely keep you updated
TRAVELLING FROM "ORANGE" AND "RED" COUNTRIES
Ireland and UK are currently on the list of orange countries, but the situation may change weekly. People travelling from these countries, which are considered as more risky have currently 2 options how to travel to Prague:
Staying in Czech republic for less than 24 hours – in that case we would provide you with document confirming that you are travelling for urgent medical procedure – you would only show this once you arrive to our country.
Staying in Czech republic for more than 24 hours – in case that you would like to stay in our country longer than 24 hours then you need the document mentioned above plus negative PCR test for covid-19 (nasal swab). This result must not be older than 4 days while entering the Czech republic. People arriving without that test must go into the quarantine for 2 weeks unless they provide the Czech Hygiene office with negative PCR test within the 72 hours upon arrival. We cooperate with laboratory which can organize PCR tests for our clients.
GETTING PCR test for COVID-19 IN CZECH REPUBLIC
We can organize the PCR test for Covid for our clients in cooperation with laboratory in case that they have at least negative blood test for Covid from their country – not older than 4 days when entering Czech republic.
The PCR tests are done every working day between 7:30 and 8:30 in the morning and the result comes back within 24 hours. The price of the test is 2500 CZK or 95 EUR.
We highly recommend to travel only in case that you feel absolutely healthy to avoid unnecessary complications. Also we need to inform you that in case that the PCR test in Czech republic turns to be positive, the patient must self-isolate in our country for 2 weeks (which is the minimum in case that the control tests are negative after 2 weeks of quarantine).
To make something extra for our clients we pre-booked an apartment so in case that someone needs to stay in quarantine in Czech republic it´s possible to use that place to self-isolate. However we believe that it won´t be needed.
HOTELS & FLIGHTS
Hotels and apartments already opened again on May 25th, but not all of them as the tourism basically stopped because of the coronavirus. So I definitely recommend to contact your selected hotel directly. Also many hotel offer free cancellation e.g. via booking.
There are currently no direct flights from Ireland an UK, but we believe that this will change soon.
At this moment it´s possible to fly from Ireland e.g. via Amsterdam, Paris or Frankfurt.
From UK it´s possible to fly e.g. via Amsterdam, Budapest or Franfkurt. However CSA announced that direct flights from London to Prague should be operating again from June 26th.
Anyway we recommend to watch the website of airlines and your airport. Also if you travel through another country please check their rules for transit.
COMING BACK TO YOUR COUNTRY
In case that you need negative PCR test for covid for return to your country to avoid the self-isolation at home, we can arrange that for you before you leave Czech republic.
However according to the latest information we have, anyone arriving to Ireland or UK must self-isolate for 2 weeks despite the previous negative test.
We recommend to check the official websites of your Government institutions.
We are looking forward to welcome you in Prague soon!
You might be interested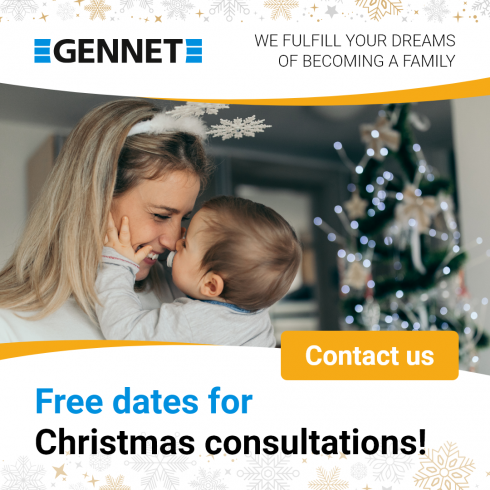 News
07.12.2023
Are you longing for a baby, and still no luck? Take advantage of our Christmas dates for a free consultation and step into 2024 with new hope for a complete family.…