Share
Precise sperm selection using advanced selection methods significantly increases the chance to conceive (PICSI, ICSI, MACS and MFFS)
13.06.2022
Advances in the field of assisted reproduction are very fast and new methods and approaches that keep treatment rates high are emerging every day. Since we are often asked about which advanced methods of sperm selection we offer at our clinic and the differences between them, we asked the Head of IVF Laboratories - Ing. Radomír Křen, Ph.D., to introduce these methods in detail, within the historical context.
Before sperm are used for methods of assisted reproduction (ICSI, IVF), it is necessary to separate functional, healthy sperm from non-functional, pathological sperm. For this purpose, various separation and selection methods of seed processing have been developed. The basic parameters for determining the quality of sperm are their concentration in the ejaculate, their motility and the presence of pathological forms of sperm. However, functional, healthy sperm must also have a good membrane with the necessary receptors, undamaged DNA, enough energy and contain all the enzymes necessary to fertilize the egg and to induce the process of embryo development (oocyte activation).
However, standard separation methods based on gradient centrifugation can only separate motile sperm from immobile sperm and cannot separate healthy, functional sperm from non-functional sperm. For this reason, the standard methods of sperm separation are accompanied by other methods that help to better select healthy sperm and thus increase the chance for successful treatment.
At our clinic, we offer the MACS and MFSS methods, which have replaced the PICSI method.
The PICSI method has been used in centres for assisted reproduction (CAR) since 2010 with the promise to increase the success of infertility treatment by selecting quality, mature sperm that have the ability to bind hyaluronan, a natural component of the cells surrounding the egg. Only sperm equipped with hyaluronan binding receptors were considered fertilizable. However, the results gradually showed that binding to hyaluronan gel was not specific and this method did not significantly increase the success of the treatment. For this reason, we have abandoned the PICSI method.
The MACS (Magnetic-Activated Cell Sorting) method is an immunological method for selecting quality sperm with low DNA fragmentation and was introduced into CAR practice in 2016. This method employs antibodies that bind to sperm with damaged plasma membranes, i.e. pathological sperm that have lost their ability to fertilize. The antibodies cover the sperm with magnetic beads that trap the sperm on the magnetic column when they pass through. Healthy sperm with an intact membrane pass freely through the column and are captured in a test tube and used for the ICSI method.
MFSS (Microfluidic Sperm Sorting) is a new separation method introduced into CAR practice in 2018, which allows the selection of healthy, highly motile sperm with almost undetectable DNA fragmentation, by using a chip. The chip is developed to create micro-barriers in the form of channels or pores that mimic natural barriers in the fallopian tubes. Sperm that are unable to cross these barriers are captured and only healthy, functional sperm are able to enter the collection chamber. These sperm are then used for the ICSI method, in vitro fertilization or for intrauterine insemination (IUI). The huge advantage of the MFSS method is its gentleness because, thanks to the use of a chip, sperm don't need to be centrifuged. By omitting centrifugation, sperm are not exposed to oxidative stress and their ability to fertilize is fully preserved. For this reason, MFFS is currently one of the most common sperm selection methods in CAR.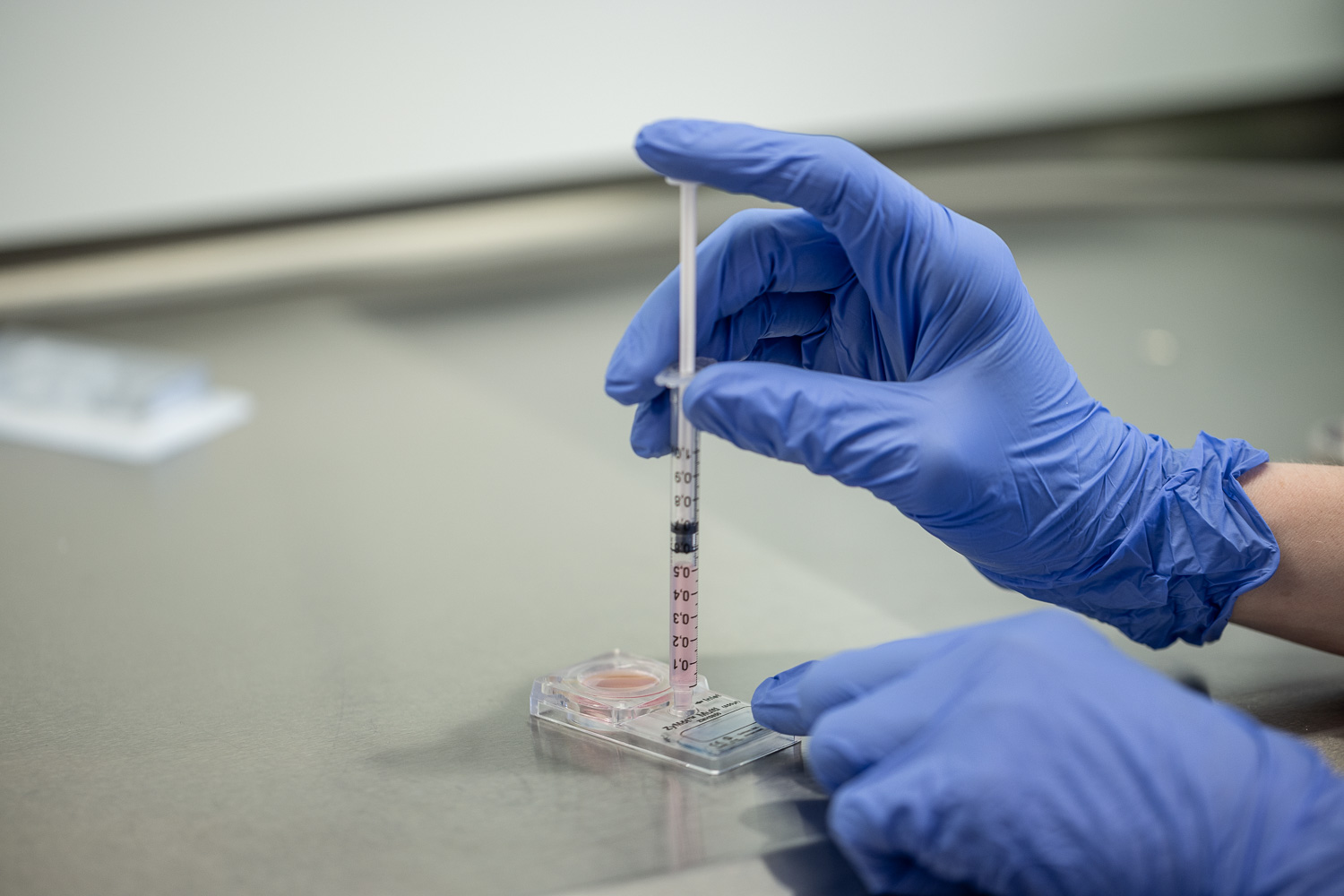 The choice of individual methods should always be made in collaboration with a physician and embryologist based on the results of sperm analysis (SPG). Never be afraid to ask your doctor for details. You can find more about the mentioned methods HERE.
You might be interested
07.02.2023
We have prepared a new genetic testing package to increase your chances for successfull conception.