Share
Interview with a new IVF physician Dr. Daniel Alexander
26.01.2021
Even though not many good news have been coming from the world since the beginning of the new year, we are glad that our clinics are fully open and that our physicians are ready to help other pairs in their journey for the dream offspring. So we are coming with a news – we would like to welcome another expert to our IVF physicians´team – Dr. Daniel Alexander.
MUDr. Daniel Alexander has newely become a physician of the IVF programme in our clinic GENNET Archa. He studied the Faculty of Medicine at Komenského University in Bratislava. He passed the certification I. in the field of gynaecology and obstetrics. He´s been dealing with the problematics of reproduction medicine since 2002, first in the Centre of Assisted Reproduction Iscare in Bratislava and then in the Centre of Reproduction medicine GEST, Praha. He speaks fluent English and German.
We asked him to give us a short interview when coming to our clinic:
1. What brought you to the field of assisted reproduction?
The Gynaecology and Obstetrics Department, where I began in the hospital, did examination and treatment (within their means) of infertility.
2. What do you consider to be your biggest achievement in your carrier?
Satisfaction of our patients (both the successful and the unsuccessful ones).
3. What is the most common reason for infertility of pairs according to you?
The most common reason is probably the today´s world which makes people to postpone maternity to a higher age of the woman and erroneous idea that today´s medicine can do anything. It can do a lot but not everything.
4. What should the pairs avoid so that they don´t have to solve problems with infertility?
It´s not good to postpone maternity and attempt at conception to a higher age of the woman. Life is interesting even with children.
5. What would you like to reach in the field of assisted reproduction?
Of course the best possible and up-to-date knowledge, expertise and skills.
6. Is there any advice you would like to send to the pairs who are still trying to conceive a baby?
Not to postpone further attempts, not to throw in the towel. Assisted reproduction is a very beneficial method with a high success percentage.
You might be interested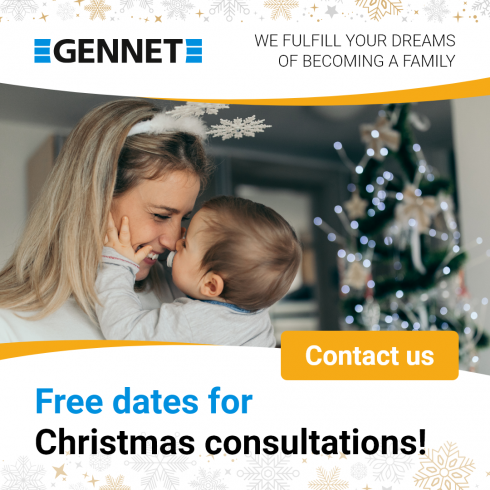 News
07.12.2023
Are you longing for a baby, and still no luck? Take advantage of our Christmas dates for a free consultation and step into 2024 with new hope for a complete family.…