Share
COVID FREE CLINIC - Operating News 28. 4. 2020
28.04.2020
Dear clients,
We are delighted that, thanks to the favourable epidemiological situation, we have been able to fully reopen operation of the clinics in Prague and Liberec. We still welcome the possibility of online consultation for our clients. We continue to establish additional measures to secure smooth running of the branches.
In order to make the operation of our branches as safe as possible for you – our clients and for our employees too, we decided to launch the COVID FREE CLINIC program. In practice, this means that on our employees we will test the presence of anti-SARS-CoV-2 antibodies in serum using high-quality diagnostic kits (not a quick test). This way we will find out which employees are already immune to the disease. If necessary, we will add the PCR examination of the presence of the virus in the swabs. Thanks to this screening we will be able to react very quickly in case of suspicion of infection in our employees.
These regular tests will have the only goal – a responsible and safe approach to the current situation and minimizing the risk to both medical staff and our patients.
Thank you for your support
The GENNET Team
You might be interested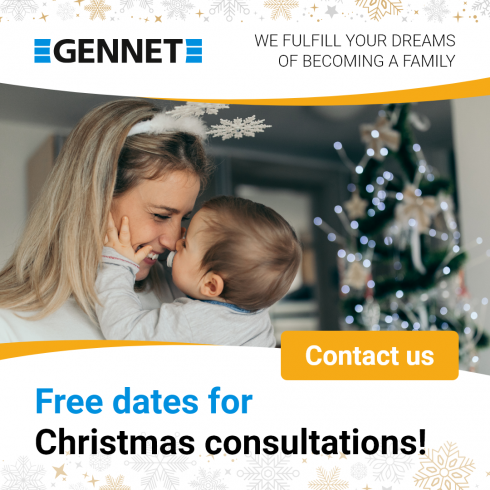 News
07.12.2023
Are you longing for a baby, and still no luck? Take advantage of our Christmas dates for a free consultation and step into 2024 with new hope for a complete family.…