Share
COVID-19: Operating info 8. 2. 2021
08.02.2021
Dear clients,
we would like to inform you about the current situation in Czech Republic.
The Czech borders remain open for travelling for medical care, we will issue you an official certificate proving the urgency of the treatment.
We organize PCR tests for COVID-19 for our patients. This test is FOR FREE for patients coming for all treatment types (excluding frozen embryo transfers) Please contact your coordinator two days in advance if you wish to book a test in Czech Republic.
In case that your stay in Czech republic does not exceed 12 hours there is no need to complete the Public Health passenger Locator form or submit a PCR/antigen test results.
There are new rules for stay longer than 12 hours, for more information please contact your coordinator.
We take the risk – if you can´t undergo your treatment from objective reasons, your deposit does not expire and you do not lose your treatment!
The rules for international travelling are changing every day, so we recommend also to check the official websites of your state institutions (e.g. the Ministry of Health) where you can find the most updated information about the travel restrictions.
For foreign clients we still offer free consultation with our doctors via Skype or phone. You can order here.
The Czech Republic is currently in emergency state and following rules are valid: wearing face masks, social distances, restaurants are open only for take away, the non-essentials shops and services are closed (pharmacies and supermarkets remain open).
As most of the hotels remain closed, we arranged cooperation with the following hotels which will be open for you. Contact your coordinator for help.
Motel One Prague *** and half
+420 222 334 500
Single room – 69,89 EUR without breakfast
Double room – 70,70 EUR without breakfast
Art Deco Imperial Hotel ****
+420 246 011 663
69 EUR per night including breakfast
Hotel restaurant remains open, room service available
+420 778 523 600
This accommodation offers 20% discount on accommodation with code: GENNET
We are looking forward to welcome you in Prague soon!
You might be interested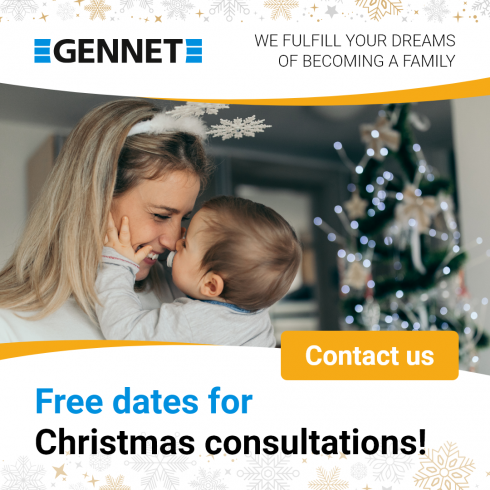 News
07.12.2023
Are you longing for a baby, and still no luck? Take advantage of our Christmas dates for a free consultation and step into 2024 with new hope for a complete family.…