Share
A new GERT test helps determine the ideal time for embryo transfer
19.01.2023
We are now offering patients the GERT - GENNET Endometrial Receptivity Test, which we have developed in our laboratories. The test allows a very detailed qualitative examination of the uterine lining and determines the so-called endometrial receptive window - the time when the uterine lining is ideally prepared for successful embryo implantation. It helps each patient individually to determine the most suitable time for embryo transfer.
GERT is recommended for women:
repeated failures of embryo implantation
problems with the uterine lining
in repeated biochemical pregnancies
The examination is performed without anaesthesia by biopsy of the uterine mucosa, optimally in the cycle preceding the cycle when the embryo transfer is planned. The doctor inserts a thin catheter through the cervix and takes a sample; the procedure takes 10 to 15 minutes. The material obtained is then subjected to special genetic testing in the laboratory. Based on the results, it is evaluated whether the test was carried out at the ideal time or whether the implantation window is delayed (which is the case for about one in five women).
We offer the test as part of a comprehensive infertility treatment solution to our patients, please inquire with your coordinator. If you are not one of our patients yet and are interested in receiving treatment at the GENNET clinic, schedule a free initial consultation HERE.
You might be interested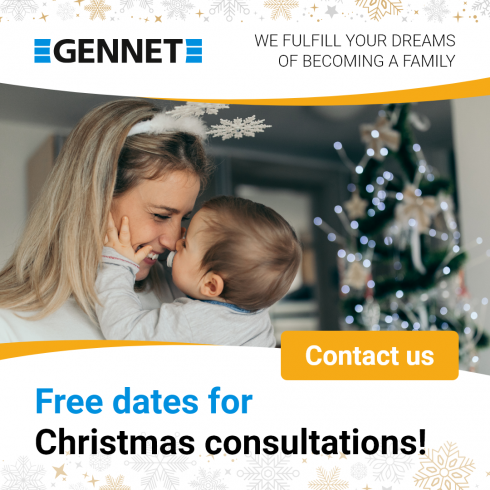 News
07.12.2023
Are you longing for a baby, and still no luck? Take advantage of our Christmas dates for a free consultation and step into 2024 with new hope for a complete family.…